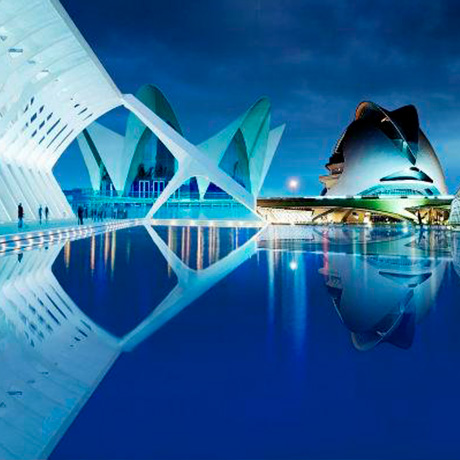 Hemisferic
The Hemisfèric consists of the hall, the main entrance, the projection hall itself, and the Perimeter Ring.
In the hall you can find the main services open to the public (ticket offices, cafeteria, shop, information desk, booking counter, etc.); there is also a central space for temporary exhibitions.
The projection hall, which can hold over 300 people, has a concave screen with a surface area of 900 square metres and a diameter of 24 metres.
contact us
Description
Hemisfèric is a remarkable and spectacular building designed by Santiago Calatrava that represents a huge human eye, the eye of wisdom. This symbolises the observation of the world that visitors discover by means of surprising audiovisual projections.
Is this first section in the City of Arts and Sciences that was opened to the public, on the 16th April 1998. It has an ovoidal roof over 100 metres long within a large sphere that houses the projection hall. The inner area includes the "Carl Sagan" Perimeter Ring which was named in honour of the great American communicator. It is an oval or elliptic area that surrounds the dome of the projection hall and is protected by the large roof of the building.
The ornamental lake 24,000 metres square surrounds this structure to create a complex of extraordinary beauty. Maximum building height 26 metres.
Where?
Hemisferic
Av. del Professor López Piñero, 3
46013 València
get info