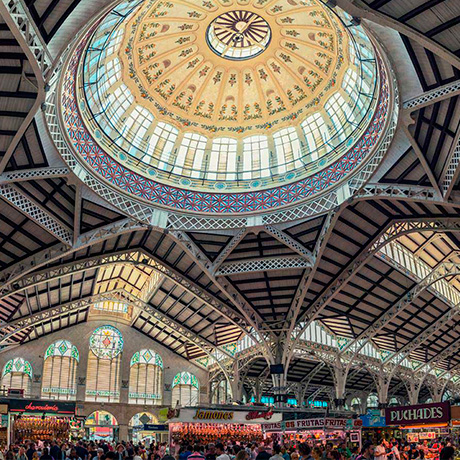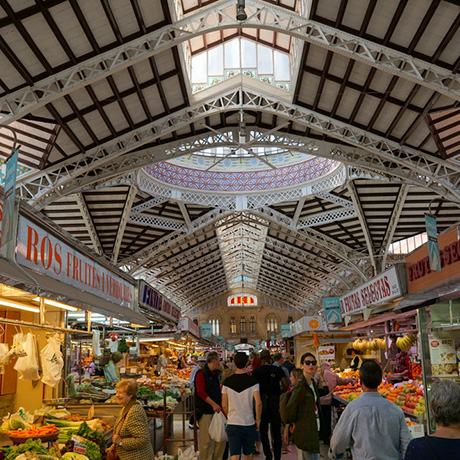 Mercado Central
The space currently occupied by the Central Market was, since the first expansion of the city, the habitual location of the itinerant markets. In 1839, it opens, in this location, an open market, the new market, the new market, the germ of the current Central Market. Towards the end of the nineteenth century, this market is clearly insufficient for the city of Valencia. For this reason, the city Council of Valencia summoned up to two constests for the construction of the new market.
contact us
Description
The spectacularity of the Central Market is undeniable. This is one of the most attractive and visited buildings int he city of Valencia. Its architecture doesn´t break the aesthetics of the square, where it integrates perfectly with two other important monuments: La Lonja de la Seda and Los Santos Juanes Church. It is, undoubtedly, the most representative building of Valencia that at the beginning of the twentieth century advances towards technological and mercantile progress and agricultural production is reflected in the modernist structure of the market and the allegorical ornamentation that we observe inside.
The cupolas, of iron, glass and ceramics (the Central one reaches 30 meters of height) and the vanes that crown them -the parrot and the fish- are integrated to a landscape panorama of towers and bellies eminently Valencian.
The distribution of the interior is rationalist, so the stalls are located along a series of rectilinear streets crossed by two broad pathways. It was conceived for 959 positions, destined in the general zone to high shops closed for butcher´s shop, corner shop and ironware; low stalls for potatoes, legumes, vegetables, fruits and hen; high-open shops for sale bread, poultry, meat and hunting meat; and, in the fish shop, high shops for sale of salt and offal , and low stalls for fish.
The two pavilions that flank the main access are built entirely in brick seen, with appñications of stone and decorated ceramics, while the annexed building of Deputy mayor follows the construction of influence Noucentista and remains topped by turrets crowned by small semi-spherical domes.
Where?
Mercado Central
Plaça de la Ciutat de Bruges, s/n
46001 València
get info