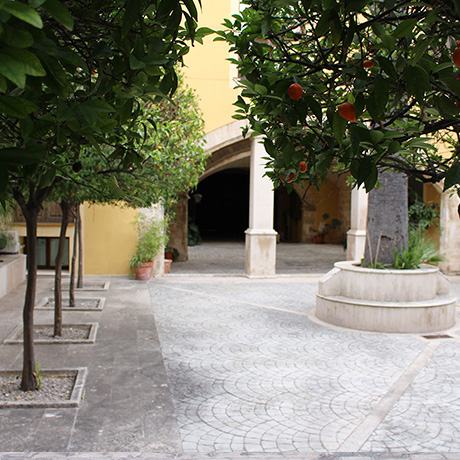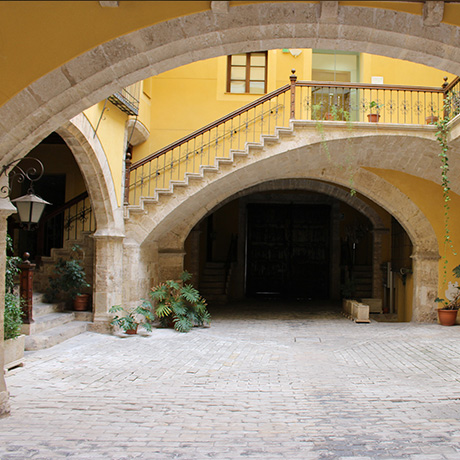 Palacio Mercaderes
The palace of the Marquises of Mercader is in an environment whose plot is made up of blocks of considerable length, particularly those that make up Caballeros Street. It is certain of its existence at the beginning of the s. XV, known the contribution made by the family in the middle of the century, to the extension works of the nave of the church of San Nicolás, located just opposite.
contact us
Description
Great Gothic palace that housed, since the end of the fourteenth century and until the first third of the nineteenth century, the Marquis of Mercader and that, during the sixteenth and seventeenth centuries, occupied the entire front located between the current Landerer and Salinas streets. The building that remains with this denomination develops around a central courtyard, defined by carpal arches, which extends into an open garden towards the interior of the block. It consists of ground floor with basement and mezzanine, main and upper floor, and all of them are accessed from inside the aforementioned patio. The main facade shows the aspect acquired after the interventions of the 18th century; access gate with a noble shield on the lintel, lattice windows, huge gated doors with open balconies, and windows as a gallery of arches. Using for many years as an educational and cultural center, it is currently being rehabilitated for headquarters of the Union of Agricultural Cooperatives of Valencia.
Palacio Mercaderes gallery
Where?
Palacio Mercaderes
Carrer dels Cavallers, 26
46001 València
get info